Today, we attended a National Dog Show in Lipno – with Antares and Magnolia.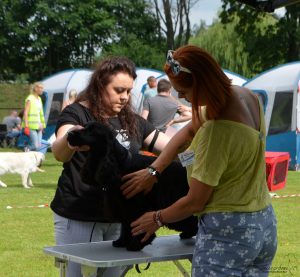 Unfortunatelly, Antek had a tail contusion and he didn't want to cooperate in the ring. I don't know, what could happen… the tail was sore and he didn't move it. I told the judge about this problem and fortunatelly she was really understanding. 
After the judge's  assessment it was time for the comparision. And… again, a little problem, because I had to go both with Antek and Maggie…. And… this was the time for my Darling, who took Antek and showed him. I know, it wasn't perfect at all, but it was his first time, and it was so nice and …. perfect for me. And our kids made a movie from that …. I am over the moon… 
Mrs. Milena Seidel – thank you very much… you are the best 🙂 
TIARA Wrzeciono Czasu – Champion Class, excellent, I
Titles: Best Bitch
Certyficates: CWC
Judge: Milena Seidel (PL) 
ANTARES – Open Class, excellent, I
Titles: Best Dog
Certyficates: CWC
Judge:  Milena Seidel (PL) 
And also my chocolate baby was at the National Dog Show in Jelenia Góra. He is just gorgeous, after being groomed by Szymon Karnaś. Again, Choco was very promising, with the Title of The Best Puppy. 
Sylwia… congratulations. 
AUTUMN SUNSET Montecarbone –  Puppy Class, very promising, I
Judge: Vladimir Mihaljcić (RS) 
Titles: Best Puppy in Breed