Today was the second day of the dog shows in Opatówek near Kalisz. It was so hot and sunny. We took Antares and Magnolia.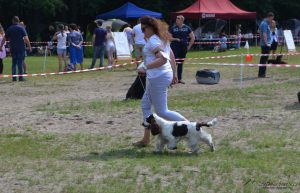 It was like a  big expedition with all those things for dogs. Fortunatelly, our big grooming table managed to lift everything. 
It's so funny, because the previous day all our things were in one  backpack, and today the equipment was so big. 
I am really satisfied, although I didn't get the first place. My dogs were both in an excellent condition and the judge appreciated that. Antares is so beaufitul, he developed a lot since last time. And Maggie did very well after almost two years off the shows. 
TIARA Wrzeciono Czasu – Champion Class, excellent, II
Judge: Tomasz Kuszyk (PL)
ANTARES – Open Class, excellent, II
Judge:  Tomasz Kuszyk (PL)
Thank you very much 🙂